Warnings
Please speak with your healthcare provider and schedule an in-person consultation before purchasing this product, to evaluate whether it is truly the best option for you.
Vendors
evika uses affiliate links when available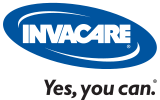 Invacare
Invacare Corporation, headquartered in Elyria, Ohio, is a global leader in the manufacture and distribution of innovative home and long-term care medical products that promote recovery and active lifestyles. Invacare employs approximately 3,400 associates and markets its products in more than 100 countries around the world. The Company is listed on the New York Stock Exchange under the symbol IVC.
US$ 975.46
Funding Sources
No funding sources found