Learn About the Latest in Assistive Technology
Read our educational articles to learn tips and tricks on how to use Assistive Technology, and stay up-to-date on the latest developments!

Markie dives deeper into hacking your life to achieve your goals. Following on the SMART model video, Markie explains how serotonin and dopamine play a role in driving your forward to achieve your goals. Learn how to hack your brain to achieve your ambitions!
Read More »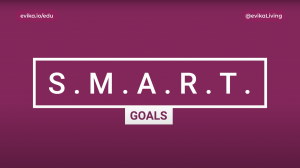 SMART goals are Specific, Measurable, Achievable, Realistic and bound by a Time Frame. Learn how to apply the SMART strategy to help achieve your goals! Join us on a Minute with Markie, as she walks us through how to apply the SMART model to your life's goals.
Read More »
Because so many of us are working from home these days, today I thought we would explore proper ergonomics.
Ergonomics is the science of fitting the work environment to the worker. Ergonomics is not to be confused with "body mechanics", which is the use of proper body positions and movements in order to maintain neutral alignment to protect the body from injury.
Read More »
Markie works with evika to create fun educational videos. In her work with Enablement Therapy Services, Markie has created webinars and lesson plans for people interested in furthering their careers and workplace innovation and education seminars.
Visit Markie's website to learn more about how her educational packages can benefit you or your organization.
Our top picks based on popularity, and educational content.
Women make up as much as 70% of the healthcare workforce. Overwhelmingly, women clinicians prescribe and provide the assistive devices and technologies used by patients, however there are very few women-led companies that create them. While we have a long way to go to reach gender parity, we want to take this International Women's Day to celebrate a few of the amazing women-led companies currently producing innovative and intuitive products designed to make life easier and more enjoyable for people living with disabilities. Read on to learn about 6 women-led companies changing the disability world.
Use our powerful search and filter features to find the resources you're looking for.