My First Time Swimming While Disabled
The first time I went swimming while disabled was about three years after my spinal cord injury. My boyfriend and I were staying at a hotel somewhere between northern and central California, about halfway through the arduous eight-hour drive to see our families. I had the impromptu idea to get into the hotel pool. By this time, I had sat in several clothing-optional hot tubs in the little hippie town we lived in and I was getting more comfortable with being in the water, so trying to swim while disabled seemed to be the obvious next step.
The weather was sunny but brisk, and we knew that the pool would be cold. Neither of us had bathing suits (we didn't own any), so he wore a pair of jean shorts and I a tank top and a pair of his boxers. Nobody else was in the pool or on the deck surrounding it. There was a pool lift but we decided not to chance it since we had never used one before, plus the hotel one looked like it hadn't been touched in about a decade, anyway. My boyfriend picked me up and walked us down the stairs into the water, which felt incredibly cold on my sensitive skin. We both laughed about how gross it felt to be wearing anything while underwater. It was like wearing socks in the shower.
A woman was watching us from outside the fence, an adoring look on her face. She said loudly to my boyfriend, "Aren't you just so wonderful!" He gave her a small, tight smile – he disliked being perceived as a hero simply for doing things with me. He was an introvert just like I was, and was uncomfortable when people watched us, especially when we were trying something new with each other and just needed space to figure things out. Thankfully she didn't linger for too long. I waited until after she had left to ask my boyfriend to walk us out to the five foot mark. Once there, I asked him to let me go.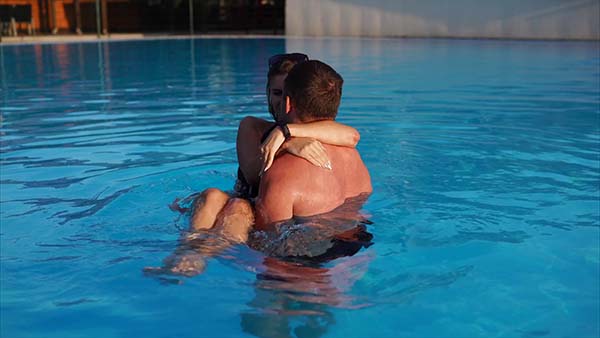 "Are you sure?" he asked nervously. As I mentioned, before getting into that pool the only bodies of water I had been in after my spinal cord injury were the hot tubs, which were never deeper than three feet in the middle. Even then, I always stayed on the benches. I had never tried swimming while disabled, where my entire body could be free to float, not touching any barrier.
"Yes, I'm sure," I replied. "I mean, stay close, but I think I'll be fine."
He reluctantly loosened his grip so I could move away from him. My legs floated down slowly, gracefully. I pushed my upper body off of him and was free in the water, nothing pushing at my body, all pressure was gone. It felt amazing; it had been years since I had felt so light.
I felt the water coming higher and higher, and I realized my legs had never stopped moving down towards the bottom and I was rapidly sinking. I quickly pushed my arms downward, trying to hoist myself up on the water but I only sank lower. I flashed to a memory of when I was a little kid at a different hotel, in a hot tub with my dad when I slipped off the edge of the little bench I had been sitting on and started to sink under, sputtering and flailing. My dad, who was sitting low in the bubbling water and didn't notice my plight for what felt like forever but was probably only a couple of seconds, looked over at me and then flew across the tub to rescue me, bushy 1980s moustache cutting through the water like a walrus on a mission.
I probably made similar sounds to my boyfriend that I had made to my dad back then, something along the lines of wup! and huk! Whatever they were they effectively communicated my distress and he quickly grabbed hold of me and pulled me up.
"What happened?" he asked.
"I don't know!" I gasped.
I tried a couple more times, with him letting me go slowly to see if I would start sinking again, which I did, each time. Frustrated, my confidence shot, he carried me out of the pool. (We were starting to freeze, anyway.) It would be years before I got into another pool and tried swimming while disabled again.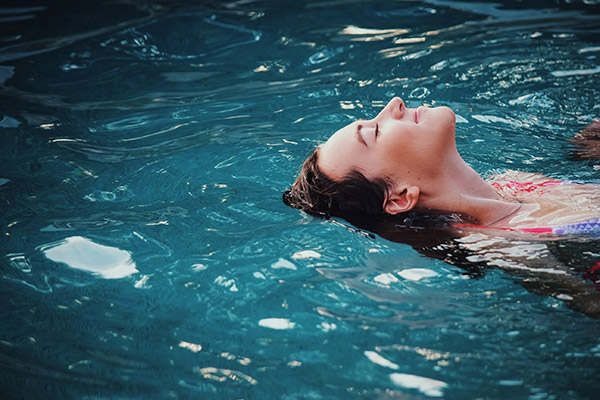 Sink or Swim
Several years after I had moved back to central California, I heard about a nearby pool specifically for people with disabilities. After my hotel pool adventure, I couldn't see how I would manage to be in one without numerous floaties attached to me – much less to swim while disabled. Yet I knew that there were Paralympic swimmers who were, like me, paraplegic. If nothing else, the fact that this pool was kept at ninety-one degrees Fahrenheit tempted me enough to try. There were no public hot tubs with lifts in the area; my body ached all the time and I missed the relief of being enveloped in hot water, and of having all pressure taken off my joints and bones.
After finally getting on their schedule, I came in on my first day a ball of nerves. (At least I had bought a genuine bathing suit by that time.) The lift they used was not like any other lift I had seen. It wasn't a plastic chair to transfer onto but a canvas sling that was slipped underneath me while I stayed in my wheelchair. The perpetually positive swim instructor I was to work with, Ingmar, began to work the manual lever to lift me up, and up, and…soon I was the highest I think I'd ever physically been since my injury, looking down at the concrete floor as someone else pulled my chair out from underneath me. My hips were almost at the height of Ingmar's head (he was not a tall man, but in the moment that didn't matter to my anxiety). All I could think was, If this thing fails, I'm going to break every bone below my waist. With one hand on my hip and the other on the lift pole, he gently pushed until I swung out over the pool, which relaxed me a bit – if I dropped at least I would have a soft landing before I drowned.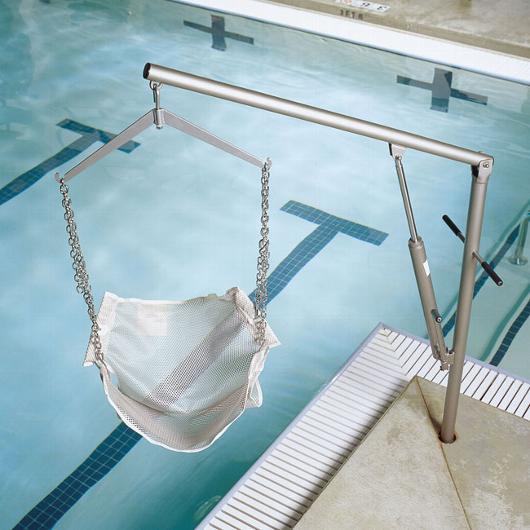 Ingmar hopped down into the pool while another instructor slowly lowered me in. Yes, the water was warm, but all I could think about was that it could kill me. I was not going to be fooled by the soothing way it curled around me, enveloping me in its silky caress. In hot tubs I was comfortably boxed in at every angle, never more than a few inches away from a wall to grab onto; in the pool Ingmar was behind me, pulling me away from the wall until it was out of arm's reach, guiding me to lay on my back — with the back of my head in the water. With the surface of the water inches from my face…you know, where the breathing holes are.
"Dude," I said shakily. "Do not let go of me. If you let go of me right now, I am going to die," I said with anxiety born of experience, trying to communicate the level of trust he was asking of me.
"Don't worry!" he said in his northern European accent I couldn't quite pin down. "I will not let you go, I promise. Just keep your head back and relax."
I tried to follow his instructions. He slowly pulled me around the shallow end so I could simply get used to being in the water. As soon as the fear of imminent death began to wane I started to feel a bit embarrassed, a twenty-something-year-old woman being floated around a pool by a man about her same age, terrified as a six-year-old about to drown in a hotel hot tub.
Ingmar did end up leaving my side a little later in the session, placing what felt like ten or so flotation devices under and around my body. As he started to move away to attend to another client I felt a rush of fear while simultaneously assuring him that I was alright. I knew I would never reach a point when I wouldn't be afraid so I thought I might as well get it over with.
After a few minutes of floating, I began to feel distracted by something; a sensation other than fear was tugging at my brain. The sounds of the pool environment – splashing, rippling, laughing, people's voices raised to cut through it all – echoed through the voluminous room with its concrete floors and walls. Bars of sun streaked through the skylight above me and glinted off the water on my raised hand. As my body bobbed gently I thought: This is the first time I've been on my own in the water since I became paralyzed. I recalled the last time I had been on my own in the water, perhaps five years earlier as an able-bodied person swimming naked in the Russian River in northern California with my friends, finding the deepest spots and avoiding the currents as best we could. I thought of the outdoor pool in my hometown that I spent every summer swimming in as a child every day that it was open, my skin turning a golden brown in the sun and my blond hair turning to a greenish straw from the chlorine.

Being Able to Independently Swim While Disabled
Despite all the time I'd spent in the water in my life, I had never been a good swimmer. I could manage a slow sidestroke and a clumsy backstroke but couldn't do a front crawl to save my life — literally. I barely passed the required high school swimming tests. Yet I had always loved being in the water, and as I floated alone on my back with all those devices holding me up my body began to remember that. I started to want more – more movement, more confidence, more independence.
It took a couple of months for me to become fully independent swimming while disabled. Ingmar taught me how to tread water using just my arms by moving them like a hummingbird moves its wings, something that stills fascinates me to this day. I started diving for rings – more difficult than I expected without my legs to power me downward. The first stroke he showed me was the backstroke; I did eventually learn the front crawl as well. I began to do laps; just a few at first but I built upon those until I was swimming the equivalent of a quarter-mile each session. Eventually, I became a better, more confident swimmer as a paraplegic than I had ever been as an able-bodied person. All that was left for Ingmar to do was help me in and out of the pool.
Being in the pool wasn't only about swimming. As a person with a physical disability, my body often hurts. And as a wheelchair user (i.e., I sit all the time), my spine is under constant pressure. Being in the water helped relieve both pain and pressure. Perhaps one of the greatest things about it for me, though, was the freedom of movement I experienced. While I am thankful that wheelchairs exist for people like me, my range of movement can feel akin to that of a vacuum cleaner's. In the water I could experience an expansion of the possibilities of movement; something that all humans, disabled or not, tend to enjoy about the water. It was easier for me to engage my lower body in physical expression, allowing me to experience my body as an integrated whole instead of one half that moves and one half that does not.
After a while, the demands of life pulled me away from the pool: I started a new job, then went through two major spinal fusion surgeries with long rehabilitation times. When the pandemic hit, the pool, of course, had to close its doors. I do believe they are opening again, however. I am a bit nervous about returning because my body doesn't move like it used to due to the spinal surgeries – what will this mean for me, I wonder, when I get back into the pool? I may no longer be able to swim laps, but I'm sure I will still be able to tread water, and to float on my back and look through that skylight to the blue sky above.
Resources for Swimming While Disabled
Don't be afraid to reach out to your local pool and ask if they offer any services to help you experience the water and swimming while disabled. They worst they can say is "no". Your best resource is Google, to search for pools near you.
If your local pool can't help you, you might have better luck with a clinic that focuses on swimming while disabled. You'll likely need to search for a clinic that offers "Aquatic Therapy", such as the HydroWorx clinic or H2Orthopedic (we're not affiliated with either, just examples).
Check out some of my other articles for more advice and life experiences!