I was scared the first time I travelled while disabled. It was about one year after my spinal cord injury. There seemed to be so much that could go wrong. What if I forgot to pack something important? What if I had a medical emergency and I was far away from any doctor who knew me? What if I was in so much pain I wouldn't be able to enjoy myself, and became a burden on my partner?
Over the past two decades as a wheelchair user, I've learned many things about travelling while disabled (mostly wheelchair-related, of course). I'll only be referencing on-the-ground travel here; air travel is a completely different animal that deserves an entire article of its own. While some things here are specific to wheelchairs, others are good to keep in mind for any disability.
Making Lists
The thing I was most anxious about when it came to travelling was the possibility of forgetting something vital to my self-care, or something that would be difficult if not impossible to replace. Two things I needed to pack fell into both of these categories: catheters and prescription pain medication.
Without catheters I wouldn't be able to empty my bladder, which would create a life-threatening condition for me, and catheters are only sold by medical supply companies. You can't simply go into a drug store and buy them or request them from the pharmacy. And my prescription pain medication is a controlled substance — there are strict laws around those. Anyone who is taking a controlled substance medication likely knows how difficult, if not impossible, it can be to request extra pills — no matter the reason. I have severe nerve pain from my spinal cord injury and while the medication I take only reduces the pain by about fifty percent, that fifty percent is the difference between me being able to participate in life and me curled up in bed in tears, my body jerking sporadically as it feels like my sides are being slashed with electric razors. It only takes 36 hours of missed medication for me to reach this state.
I started to make a packing list to help soothe my anxiety about these things. I decided to break my list up into sections so it wouldn't seem so daunting. Below are some examples of types of items that might fit into each section, covering different disability needs.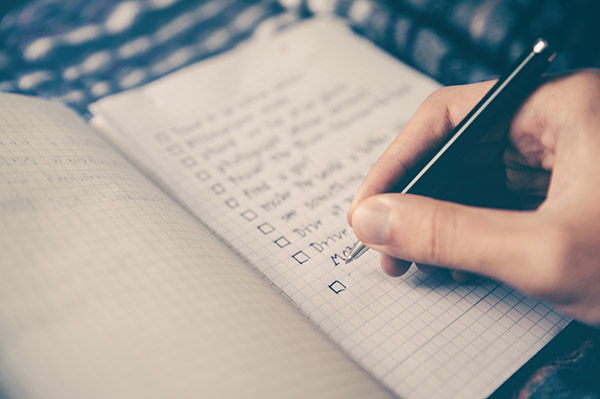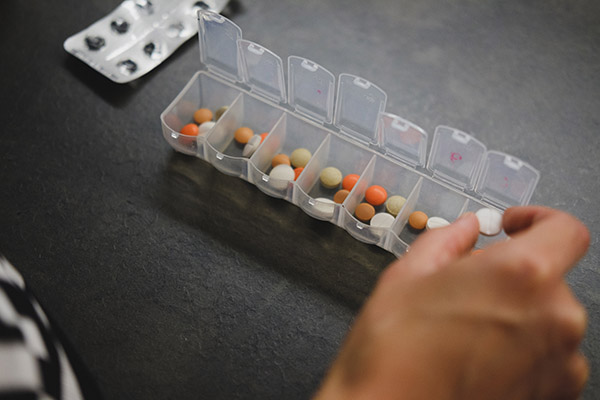 Making the List
First section:

Essential items you can't replace or find at stores
Medical equipment

AFOs, braces, crutches, transfer board, glasses etc.

Medical supplies

Suppositories, syringes, urological items, ostomy items, feeding tube items etc.

Prescription medications that

Are controlled substances such as narcotics and/or opiates
Would cause you severe harm, pain, or withdrawals symptoms if you missed a dose or two
Are often in limited supply at pharmacies
Are compounded medications
Second section:

Items you could replace but would be expensive, inconvenient, or time consuming to do so
Chux pads (sold as "puppy pads" at pet stores and occasionally grocery stores)
Disposable briefs
Lubricant
Pain relief items such as heat wraps or ice packs
Rubber gloves
Third section:

Everything else a non-disabled person would take on a trip
You might think you wouldn't need to write these things down, but I've found that sometimes I can get so wrapped up in making sure I've packed all my disability-related things that I'll forget to include basic things, such as a hairbrush.
If you forget a medication, try to find a pharmacy that is part of the same company you use at home. They may be able to give you some pills to hold you over. Failing that, give your doctor a call – they may be able to call in a prescription for the pharmacy to fill.
Always bring extra pills. You never know when you may have travels delays, or an incident when you drop a pill and it rolls somewhere it can't be reached. Packing extras can be difficult with controlled substances since pharmacies usually won't give you your prescriptions more than a day early. If there are any secondary medications that help, such as aspirin or ibuprofen, be sure to stock up.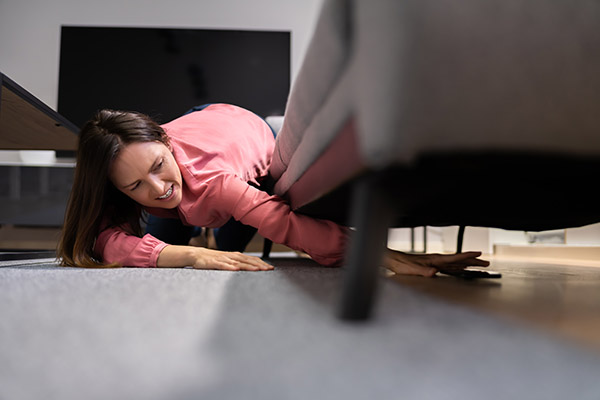 Dealing With Chronic Pain
If you deal with chronic pain, your experience of it may change when you travel while disabled. You'll be sitting in a vehicle for a while, moving around on new surfaces, and perhaps exerting yourself more than you normally would. I know that when I'm travelling, the thing that's always one of the biggest gambles for me is the bed I'll be sleeping on.
Like many people who deal with illness and disability, my body is used to my own bed and when that one thing changes, there is the potential of my whole travel experience being affected by it. My body may love the strange bed — it may feel soft but not too soft, supportive, and it may keep me at just the right temperature, helping my muscles to relax. Or it may feel concave, weak, and leave me sweaty, with an achy back upon awakening. Either way, being prepared for varying pain levels helps to soothe my anxiety of the unknown bed.
One of the ways I prepare myself for an increase in pain levels while travelling is to bring extra pain medication. I mentioned bringing extra pills in case one of them gets lost; increased pain is another reason to bring more.
If you use ice packs, get a lunchbox-sized cooler, fill it with ice and keep a couple of packs within reach, even in the car. I suppose you could just fill it with more ice packs instead of ice, but most tiny hotel freezers would only fit two packs at a time. Fortunately, hotel ice is free. Some people use heating pads for muscle aches – there are even ones that can plug into your car.
Exerting Yourself
I was about to do a whole write-up here about another effective way of trying to keep your pain in check on vacation: not overdoing things. Then I remembered an exchange I had with my friend Shannon many years ago. It wasn't about travelling while disabled, but I think it applies. He had noticed me grimacing as I did a certain task, and he asked if it hurt me to do it.
"Yes," I said. "It does."
"Well, then you shouldn't do it," he said, concern in his voice.
"Shannon," I replied. "Almost everything I do hurts. If I stopped doing things that hurt, I wouldn't do anything at all."
When it comes to our bodies, we disabled people know our limits best. Sometimes we want to do things that are enjoyable or important to us, things that we know we will be paying for with pain and fatigue later that day or the next two or three days. It's up to us to weigh the risks and rewards and to make the decisions about whether or not to do those things.
If you can predict that you'll need recovery time after certain activities, be sure to factor that into your vacation schedule. If you are travelling with people, they'll be able to do other things during your downtime. It might be hard to see them go out while you need to stay in – try to use the quiet to relax and recharge.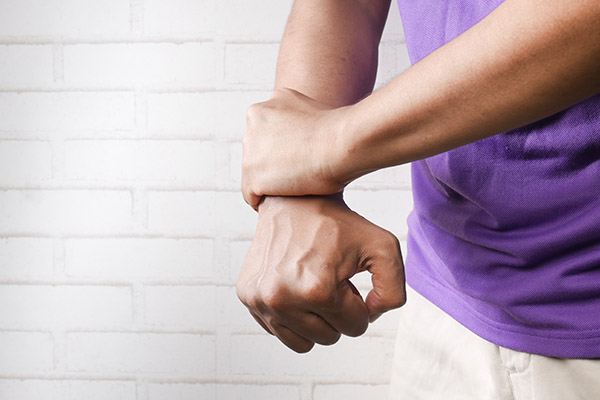 Medical Info For Emergencies
Some of us have medical alert bracelets to let medical staff know if we have certain conditions. If you either don't have one or wish to have an extra layer of security, you can also carry with you in your purse, wallet, or backpack a sheet of paper with a write up of information that would be helpful to anyone who is helping you during a medical emergency. This would include your name, birthdate, emergency contacts, and the contact information of a doctor who is most knowledgeable of your condition and history. Include details of your condition/disability and how long you've had it. Finally, include a list of any medications and supplements you're taking. Make sure to put dosage amounts and how often you take them.
A list such as this is not only good to have with you during trips away from home. Whenever I've had to call an ambulance, the emergency workers have told me that my list makes their jobs much easier. Additionally, an emergency situation is often a stressful time, and having a list can ease your mind. You don't have to worry about trying to remember everything, and you can trust that the information you are giving will be accurate. This will help the medical staff give you better care.
In an emergency, when you might be unable to speak for yourself ,a medical ID necklace speaks for you. Comes with a Medical ID Card, Front and back availability for medical and emergency contact information, carry it in your wallet or on your wrist.
Hotel Accessibility: Not Always What It Seems
Even if you book a hotel room that is labeled accessible, it may not be accessible in the ways you expect or need. Sometimes it might not even be up to legal standards. I have been in hotel rooms where there was not enough room between the side of the bed and the wall or between the foot of the bed and the dresser for my wheelchair to fit. I have encountered beds that were much too high for me to safely transfer onto (I may or may not have ended up falling to the floor one time, thinking that I would most definitely be able to haul myself up onto one such lofty mattress). If you have concerns about the dimensions of the room or the height of the bed, call ahead and ask. Be sure to call the front desk of the hotel you will be staying at, not the general corporate number of the hotel chain. You want to know the dimensions of the specific room you will be staying in. Many hotels will say that they provide a shower chair. What they often mean is that they will provide you with a small, short, free-standing, hard plastic bench on four legs. Not to say that this is necessarily a bad bench – some people find it works just fine for them. It's simply important to know what to expect, and to know that you probably need to ask exactly what it is they are providing. Personally, this type of bench would not work for me. I need something that is very stable, padded, and at or near the height of my chair. (This usually means I bring my own.) If you need a shower without a bathtub ledge or need a roll-in shower, that's also important to check for ahead of time. When it comes to service animals, in both the United States and Canada hotels must allow you to bring yours. They cannot charge you any pet fees. The only fee they can charge is if your animal does damage to the room. A final note about hotels: I have stayed in several where I expected to be able to swim in the pool only to find that their pool lifts were inoperable. If you call ahead this may give the hotel sufficient time to repair their lift if it is broken or give you time to switch to another hotel.
Sightseeing: Will It Be Accessible?
If you're planning sightseeing or other similar activities, this is another area where it's a good idea to have disability-related contingency plans in place. I'll repeat the mantra of "call ahead". You need find out about the accessibility of your activity. Even if they state on their website that they are accessible and they explain their accessibility amenities, that information may not be up-to-date. Lifts on buses can go out of service, as can elevators. Ramps may not be maintained and may be closed. Rainy seasons may wipe out the only accessible trail.
Still, once in a while you may call ahead, be assured of accessibility, and when you arrive the activity is not available to you. Perhaps the person you spoke to didn't have the correct information or they misunderstood your needs. Either way, when you get there, you can't participate.
This is frustrating, to be sure, but it can be one of the unfortunate pitfalls of traveling while disabled. One way to help soften a blow like this is to have a backup plan. Have in mind another activity that is much more likely to be accessible. Try going down a scenic boardwalk; doing some touristy shopping; spending time finding beautiful places to take photographs. You might not be able to do your most desired activity, but it's important to remember to enjoy a new place with novel surroundings; to make memories with people you care about; or to cherish time with just yourself.
The first time you travel while disabled may feel like walking a tightrope with no net underneath. Sometimes dealing with the disability is in itself an adventure, almost like a side quest. As time goes by and you gain experience with travelling you'll be able to relax more. All the planning and preparing will start to become second nature and feel less overwhelming, freeing you to enjoy your vacation as you deserve.